Makeup Tips And Tricks for Older Women
Beauty Is Only Skin Deep
With young, smooth skin anything goes, doesn't it? When you're young even haircuts and dos can be drastic and different. Your face is a blank canvas for experimentation, but most of us over 50 do not have perfect skin, and we should face it.
When we start aging, trying to look drastic is not what we want! We do not want to draw attention to ourselves by overdoing it. When we over-apply makeup, people do not look at us because we are attractive but because we look like a clown.
Many women do not seem to understand this. Take a look at your skin and reevaluate it at the age you are now. If you have taken very good care of your skin then you can get by with more, but you still cannot turn back the clock. (With the right treatment, maybe a little!) If you are fifty and look forty that is great, but it still is not thirty! If you are getting double takes, it is probably not for a good reason.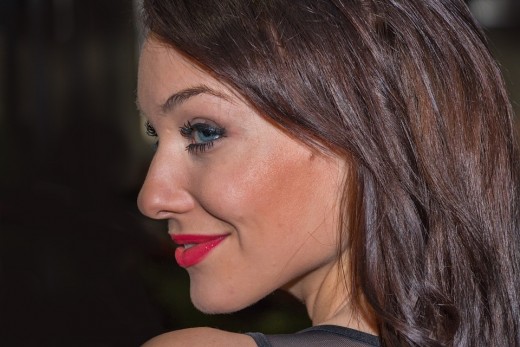 How Much is Too Much?
1. Do not be a pale face. A very pale complexion needs a tinted moisturizer at the very least, or perhaps a slight rose-colored gel stick blended evenly over the cheeks, nose, and chin.
2. Do not overdo on the makeup. A caked look will only add years, not take them off.
3. Do not use too much concealer. Trying to hide dark circles and wrinkles can backfire when we all you get is a caked look. Use a cream colored liquid concealer and smooth out the edges.
4. Do not wear dark lipsticks that make lips look thinner. Dark lip colors are as bad as the dark eye colors. Too stark and age defining.
5. Avoid putting liner around the whole eye. Line 3/4 of the eye at most, avoiding the inside edges. Add light shades there.
6. Wear a softer smudged liner instead of stark dark one. Smudge with lighter shades of liner.
7. Avoid mascara on bottom lashes, which can actually droop the eye. Older women cannot carry the bottom lash mascara look. Use a soft smudge instead.
8. Do not paint on thin eyebrows. For a more natural and less stark look, do not use a stick pencil to color in your brow. (Look at photos this article.)
9. Avoid full face color bronzer. This is sort of a tanning bed look and we don't want that.
10. Do not line the lips. This makes older lips look even thinner. Dab center lips over lipstick with gloss to plump up a fuller look.
Overdone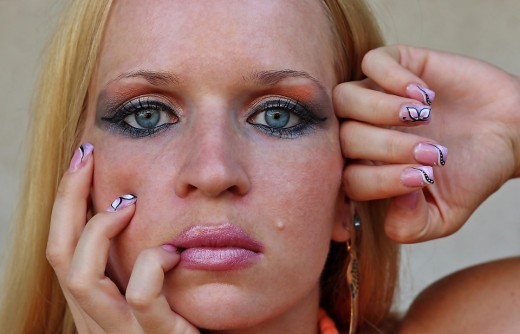 Do You See What I See?
It is really sad when women do not realize they are only getting looks of pity. We have all seen these makeup disasters even in younger women who can get by with so much.
You know that dark makeup that sometimes only goes to the chin or maybe halfway down the neck but still there is the starkness of beginning and end? Makeup all wrong and this person is oblivious to it!
Usually they are very pretty women too so you just have to wonder. Is their eyesight bad? Do they not have a caring friend to tell them?
This is for those of us who are beginning to be older women who really should know and here are also some tips you can use that perhaps you never knew about.
Use the Correct Color Tone for Your Skin.
If you use liquid makeup use one that blends into the skin the right color for you. Many shops that sell makeup will help you with this and let you see for yourself. I have purchased but not yet used the BB Cream that is suppose to be lighter than makeup with just a little help evening our tone and now we have the CC Cream I have been checking out which seems to be an improvement on the BB Cream. Will I be able to withstand the temptations? A makeup good for your skin; maybe not so bad!
The bottom video is amazing. The lady is full of wrinkles and although I am sure she always will be you can readily see how makeup can be used to erase fine lines and wrinkles and the makeup artist tells you everything you need. I will be looking at that a few more times taking notes!
Delilah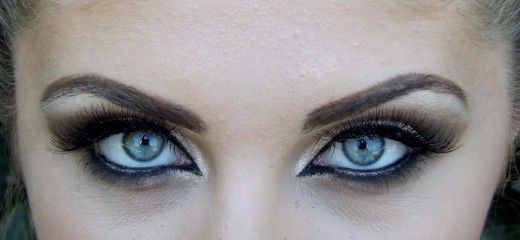 Makeup Tragedies
Have you witness makeup tragedies?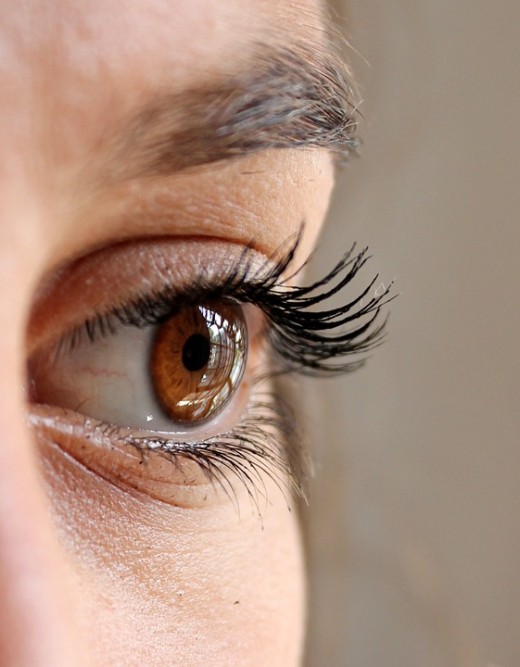 Keep it Clean.
Wouldn't the eyes above be just as beautiful without so much paint? I think so! Smooth out some of those sharp lines and she would be so much more naturally beautiful; wouldn't she? A Q-tip (or a few) smoothed over the sharp dark inner corners and worked back until the starkness is softened would do wonders. Someone that beautiful cheats themselves when they try for more than they have. Enhancement is all they need.
Have you seen the videos of the women putting this make up on? It has to be bad wear on the delicate eye. I cannot imagine doing this every day of my life although I promise you I would love to be that beautiful, but if I were I hope I would realize it and stop trying to improve what God made perfect!
Because moist skin can make makeup smear and make one look like a raccoon I gave it up long ago. I do so much garden work outside and spend time in the heat that adds to the smudging even worse! I stopped wearing mascara and I really missed it so bad.
Although I am not a fan of the show one day I was watching "The View" several years ago (maybe the last time I watched it) and heard Barbara Walters and Whoopi Goldberg talking about mascaras that had no dark smudging. This really caught my attention and although it didn't sound like Whoopi went for the idea, Barbara said she used the mascara that helped your lashes grow and be better along with the clear mascara that is just like mascara, but clear.
Needless to say I bought both of these. For ages I only used one or the other afraid the one good for the lashes would keep the clear from working but eventually seeing that the healthy one actually dried so you could use both I started doing that and I could not be happier! I use my eyelash curlers occasionally but it doesn't seem to be necessary. For the natural look I want just the two seem perfect.
Enough is Enough.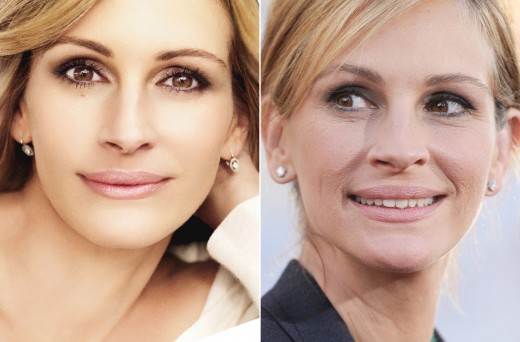 Is Natural More Beautiful in Older Women?
Personally I work on making my over fifty skin the best it can be and try to prevent aging signs for as long as I can.
As a teen I mainly wore lipstick and mascara and when I did use makeup it was almost always Cover Girl. I cleaned off the makeup and washed my face almost always in Noxzema. Whether the reason or not I do not know but I did not have complexion problems like many teens do. I would get a zit now and then right in the middle of my face at the most inopportune times (I was a cheerleader) that would make me want to scream and cry; (that's life!) but basically I was pretty lucky. Another reason could be too that I rarely had junk food such as chips and greasy foods, and soft drinks only occasionally.
Today I keep my skin soft and basically use lipstick and clear mascara and rarely any liquid makeup and/or powder. I do use a soft brown smudge liner at my bottom eye corners that seems to make my eyes look larger but I only do this if I am going out and want to dress up a bit and it only takes a couple of minutes.
I do keep makeup and mineral powders I use seldom. I may soon try some of the tinted moisturizers I am hearing so much about; the BB and CC Creams with so many good things (tone and color) plus sunscreen (is this the makeup of the future?) but basically my days are not spent around people I want to impress and I am happy being my best naturally (with a little help from my friends when I need it)! I did a good search at different places on the Aveeno BB and CC Cream and Amazon seems to have the best price including shipping by a few dollars. Walmart was not good and Walgreen was much worse.
Can a girl ever leave makeup completely behind? Probably not! We should use it with caution, though, the older we get.
* I have started using the CC cream make-up and like it very much, so now I am getting more into a make-up ritual that is quick, easy and looks good!
Makes us look 10 years older!
*Thick makeup cakes and ages.
*Makeup that is too light exaggerates fine lines.
*Face powder exaggerates fine lines.
*Blush used too low shows sagging skin – keep it high.
*Lip colors too bright or dark or metallic age the lip.
*Mascara on bottom lids so instead use very dark on top but don't clump.
*Liner on bottom lid so instead stick to top and corners and keep soft.
MUST READ: